Last Updated on August 2, 2021 by Chin Yi Xuan
In this guide, I want to share how you can open a Singapore bank account online, without visiting physical branches in Malaysia or Singapore. In particular, this guide is about opening a CIMB Singapore FastSaver account online.
So, let's get straight into the topic!
p
Highlights of CIMB SG FastSaver Account:
---
Why open a Singapore Bank Account?
There are many reasons why one would have access to a Singapore bank account:
It could be that your work requires you to receive or transact via SGD.


p

Most international stock brokers accept deposits/funding via SGD, and not Malaysian Ringgit (MYR). While you can still fund your broker via foreign telegraphic transfer (FTT) on your local bank account, it incurs expensive FX conversion and intermediary banking fees.
---
Documents Needed & Expectation
To start, it is best for you to have the following details with you:
Your Malaysia IC

Your Tax Identification Number (TIN)

A CIMB Malaysia account

SGD1,000 worth of MYR
If everything is smooth, the whole registration process will take about 2 weeks. Hence, be patient and please note that this is not something you can settle in a day.
---
Opening a CIMB Malaysia Account
To open a CIMB SG FastSaver account, you will first need an existing CIMB Malaysia account.
If you already have a CIMB Malaysia account, skip this part and move on to the next section.
Otherwise, proceed to register for a CIMB Basic Savings Account online. There are 2 options, namely Basic Savings Account 1 (without annual fee) and Basic Savings Account 2 (with annual fee). For most people, I'd recommend going with Basics Savings Account 1, unless you plan to actively withdraw money from ATM (then go with the latter option).
A thing to note is while the registration process is online, you'd still need to visit a physical CIMB Malaysia branch to (1) collect your debit card, (2) activate your PIN, and (3) receive first-time login details to activate CIMB Clicks.  
---
Opening a CIMB SG FastSaver Account
Step #1: Register for your account online
i. Check out the details of CIMB FastSaver account. Once you are done, proceed to complete the application form online.
p
ii. During the registration process, you are required to:
Upload a copy of your IC.

Provide your Tax Identification Number (TIN) if you are a taxpayer (ie. You pay tax to LHDN).

Upload your e-signature.
p
iii. Once you are done, you'll receive an email containing (1) a password-protected PDF, and (2) the next action steps.
At the same time, you'll also receive an SMS from CIMB SG containing the password to unlock the PDF file. Once you open the PDF, you'll find details of your account number.
p
Step #2: Link your Singapore account
i. Proceed to link your CIMB SG FastSaver account to your CIMB Clicks Malaysia. Once you log in to CIMB Clicks, under 'Services', select 'Singapore Account' under the Account Linking section.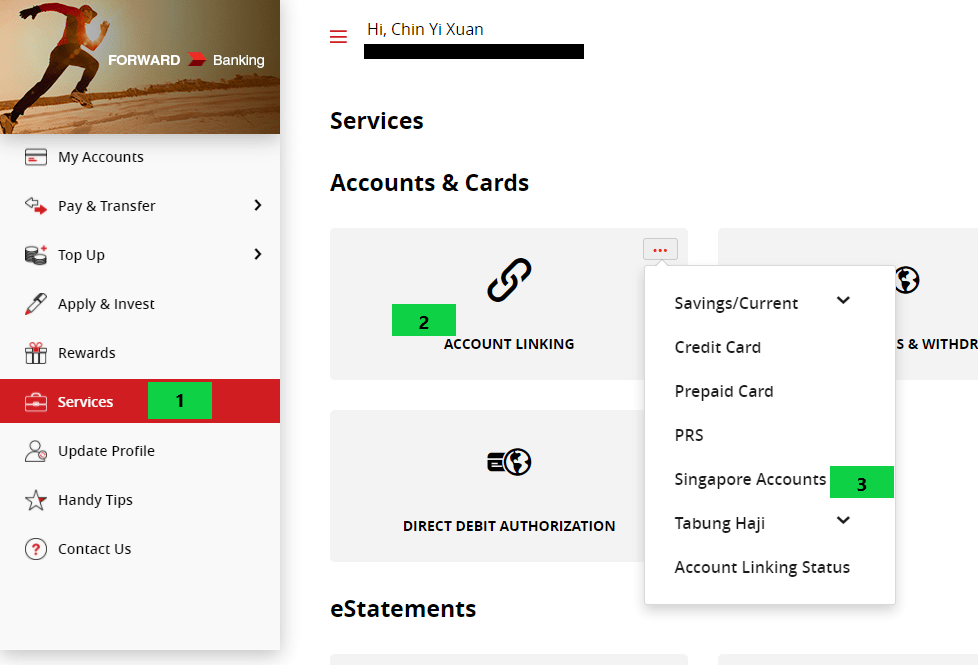 p
ii. Next, key in your IC number.
p
iii. Upon submission of your account linking request, it'll take about 1-2 working days to get approved. To check the approval status, click 'Singapore Account'. 
Note: If you check your linking request it shows you the input screen again (like what you saw in Step 2ii), this means your application has been rejected.
In this case, contact the customer service of CIMB Malaysia and let them know that you need to have this account linked in order to perform an ASEAN Transfer for e-KYC verification requested by CIMB SG.
Credits to RinggitFreedom for the tips!
p
Step #3: Perform an initial transfer
Once your account linking is approved in Step 2, move on to perform an initial transfer of SGD1,000 via your CIMB Malaysia account. It is a MUST to perform this initial transfer using your CIMB Malaysia account in order to activate your CIMB SG account.
[Update 17/7/2021: From an update from a reader, it is also possible to perform a small initial transfer of, say, SGD10 via your CIMB Malaysia account, and the rest (SGD990) via platforms like Wise (details HERE). This will help you save on the FX rates.]
Once you are done, you can view your CIMB SG account balance by clicking the Singapore flag icon.
p
Step #4: Application verification
Once you have done your initial deposit in Step #3, the next thing to do is to wait for verification on CIMB SG's end. Meaning, you'll have to:
Expect a call from CIMB SG (ie. +65 number) to verify your identity and the purpose of opening an account. They'll ask questions like your IC number and how are you planning to use the CIMB SG account.
p
It took about 3 business days for me to receive this verification call from the day I performed my initial deposit in Step #3.


p

After the call, you'll have to wait for CIMB SG's end to process your verification. This wait is longer as it took about 7 business days for me to receive my (a) account activation email & (b) SMS for my CIMB SG activation code (more  on this in Step #5).
p
p
All in all, be prepared that Step #4 will take about 10 business days of waiting. During this period, I got several email reminders from CIMB SG that I have not completed my CIMB SG application, claiming that (1) I have yet to transfer my initial deposit (I have done so), or (2) I did not provide valid documents for account opening (I did). 
If you have done everything mentioned in the email, just ignore the email and wait for the verification call from CIMB SG. If the wait is too long be sure to call or email CIMB SG for help. 
p
Step #5: CIMB SG First-time login
Finally, now that your CIMB FastSaver account is activated, it is time to log in to CIMB SG to initiate your first-time login. In Step #4, you should have received an SMS containing an activation code for CIMB Clicks (SG). Now:
Go to CIMB Clicks SG. Click 'First Time Login'.


p

Create your username & password for CIMB Clicks SG, and key in the activation code that you got from Step #4 here.


p




CIMB Clicks SG – Create username & password

p

Once you are done, download the CIMB Clicks SG app to activate your Digital Token. Setting this up is important so you can proceed with future transactions.
OKAY, now you have a fully functional Singapore bank account! The CIMB SG Clicks interface has a really outdated design but it gets the job done for any simple transfers and transactions. 
---
Wise: A cheaper way to add funds to your CIMB SG Account (+ Referral Link!)
Now that you have opened your CIMB SG account, it is likely you'll need to keep transferring funds to this account in the near future. During our initial deposit, we are required to fund our CIMB SG account via CIMB Malaysia, which incurs a more expensive FX conversion rate.
For future funding, you can go through platforms like Wise to get a cheaper FX rate. Use my Wise referral link to start transferring funds today! 
FX Rate Comparison: CIMB RM3,148.50 = SGD1,000 vs Wise RM3122.14 = SGD1,000
p
Rate Comparison: Check out the rates between Wise and our local banks below:
The true cost of sending MYR to SGD

---
How to use your Singapore bank account to fund your foreign stock broker
One major benefit of having a Singapore bank account is many foreign brokers accept the SGD currency compared to MYR. In other words, you can save on the expensive FX and intermediary banking fees by funding your broker via a Singapore bank account.
Check out this guide on how I fund (and withdraw) my go-to foreign stock broker, Tiger Brokers with my CIMB SG account!
ALSO READ: Tiger Brokers review
---
No Money Lah's Verdict
So here you have it – a detailed guide on how to open a Singapore bank account for Malaysians!
CIMB FastSaver is the easiest way for you to open a Singapore bank account at the moment, and I highly recommend opening an account especially if you look to fund your overseas stock brokerage account.
Before you go, remember to use my Wise referral link and start transferring funds today! As a disclaimer, No Money Lah will get a small referral reward if you use my referral link, which will help the blog and keep producing useful content like this one! 
If you find this guide useful, please share it with your friends & family too! 
---
Disclaimer:
This article is accurate as of the time of writing. Please let me know if you notice any changes to the process and I'll update this guide accordingly.
This article also contains referral link that will reward No Money Lah on every successful referral. This will help sustain the blog so I can keep producing quality guides and content like this. 
Subscribe to No Money Lah's Newsletter!
Get FREE updates to tips & ideas to live a better and more fulfilling financial life :)
---
Hi there! I am Yi Xuan. I am a writer, personal finance & REIT enthusiast, and a developing trader with the goal to become a full-time funded trader. Every week, I write about my personal learnings & discovery about life, money, and the market.
About Author & No Money Lah